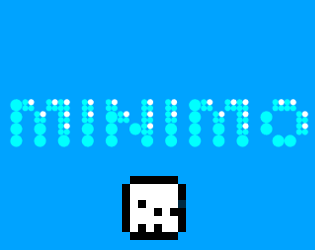 minimo
A downloadable game for Windows
Collect the power-up to win the game!

A difficult yet simple puzzle platformer made for the Minimalistic Game Jam.
Smash Breakable Blocks, avoid Danger blocks and find your way to the Win Token!
Levels are intended to be challenging, and random elements may sometimes make the levels impossible to defeat. In this case, press "R" to spin up a new level.
Controls:
LEFT\RIGHT - Move your dude
R - Run\Generate New Level
ESCAPE - Main Menu\Quit
Custom Levels:
You can create your own levels in any text editor. Files are located in the Assets\Levels folder.
Block codes are:
s = Start Position
w = Win Token (Goal)
f = Flag\Checkpoint
x = Solid Block
b = Breakable Block
d = Danger Block
r = Random Block
After creating a new level, add the filename to "Assets\levels\levels.txt" to add it to the queue. Note that the level will randomly be loaded with left\right flipped.

Install instructions
Make sure to extract the contents of the zip before running.